VP6D DXpedition Websites:

VP6D "Facebook Page"

VP6D "QRZ Page"
VP6D "Twitter Page"

VP6D "DX-World.net Page"

CW/RTTY reverse beacon for VP6D

VP6D

QSL Info / Online Log:
They will be uploading logs daily to their online log here...

They will NOT be using Clublog but they will have their own online log and OQRS. They will be uploading to LOTW during the DXpedition for early donors and six months later for the entire log..

For more QSL info see their official QSL page here.

The Ducie operation has put together quite a team and have a dedicated page for the on-air operators, pilots and QSL manager and QSL consultant here.

Active DX Forum Threads for
VP6D DXpedition:

Active VP6D thread - QRZ's "DX Zone"
Active VP6D thread - E-Ham's "DXing"
Additional "DX Zone" threads here
VP6D DXpediton NOTES:

UPDATE: Oct 16 2018 : Follow the "Braveheart" to Ducie! The Garmin sponsored "follow the ship" link has been turned on - here's the link: https://share.garmin.com/vp6d


Ducie Island (OC-182 and twenty one on Clublog's "most wanted" list) will be active soon! This will be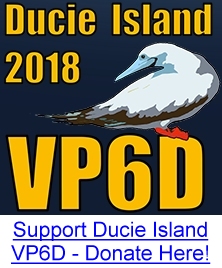 an ATNO for many of us and the only chance at Ducie for some time to come.

This DXpedition has contracted the Braveheart, a veteran of several previous DXpeditions, to get them safely to and from the island. They will also be operating a maritime mobile station while under way.



A few things to remember:

1) They will NOT be using Clublog but they WILL have an online log that they plan on uploading to daily.

2) Early donors to the VP6D DXpedition will get their QSL via LOTW while the team is still on the island! The rest of the log will be uploaded to LOTW six months after the expedition is over.

3) They will have an OQRS on their website but not on Clublog.

They will also be QSL'ing direct and via the bureau. For complete info visit their detailed QSL policy page here...




The Braveheart will be the VP6D DXpedition Ship

If you have comments, QSO reports or info to share regarding this DX station please email me at: wb9lur@CallingDX.com

73 de Randy / WB9LUR

---
-----

Announced DXpeditions to be covered in 2018 include

6O6O - Somalia - Jan 3-16, 2018 - QRT
3Y0Z - Bouvet - Jan / Feb, 2018
D68I - Comoros Island - Jan 29-Feb 10, 2018
3D2EU - Rotuma - Feb 23 to March 16, 2018
4B4B - Revillagigedo - March, 2018
XR0YD - Easter Island - March, 2018
XX9B - Macao - March 9-17, 2018
9M0W - Spratly Island - March 2018
3B7A - Agalega & St. Brandon - April, 2018
KH1/KH7Z - Baker Island - June/July, 2018
CY9C - St. Paul Island - August 1-9, 2018
TX5T - Austral Islands - August 15-21, 2018
TO6OK - Mayotte Islands - Sept 20-Oct 6, 2018
VK9XG - Christmas Island - Oct 16-30, 2018
ZL7X - Chatham Island - Oct 16-22, 2018
VP6D - Ducie - Oct/Nov, 2018
Others may be added as they are announced!
-----

* photo at top of page courtesy of N7OU see his interview on DX-Coffee here!