D68I DXpedition Websites:

D68I "Facebook Group Page"

D68I "QRZ Page"

D68I "DX-World.net Page"

CW/RTTY reverse beacon for D68I
D68I

QSL Info / Online Log:
Direct via IK5CRH at this address:

GIOVANNI ALESSI V.DON PIO VANNUCCHI
81 59100 PRATO PO
Italy

It appears that they may also be using LOTW. Will update when confirmed.

There is a "Clublog Log Search" listing for D68I but it can not be confirmed, at this time, if it will be active or not.

None

Active DX Forum Threads for
D68I DXpedition:

Active D68I thread - QRZ's "DX Zone"
Active D68I thread - E-Ham's "DXing"
Additional "DX Zone" threads here
D68I DXpediton NOTES:

I did not work this one but they did a great job on giving an ATNO to many ops! Wonder where these guys are going next?

UPDATE: Monday Jan 29 2018 14:02 UTC : Early Monday morning (UTC) cluster spots began appearing for the D68I DXpedition and it is confirmed that they are now active.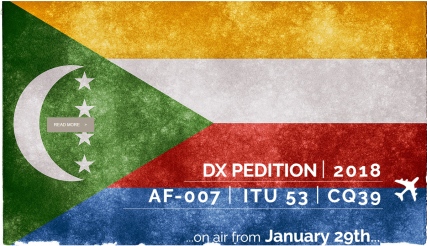 (click to enlarge)


UPDATE: Tuesday Jan 23 2018 22:02 UTC : Comoros, at number 88 on the Clublog "Most Wanted" list, will be activated soon by IK5BCM, IK5CBE and IK5CRH. This will provide many hams with an opportunity for an ATNO from the Southeast coast of Africa - IOTA AF-007. Many DX'ers will be distracted while battling the QRM in the Bouvet operation (they share some overlapping dates) which might make this one a lot less hectic to work.
Good luck to everyone and - see you in the pileups!

73 - Randy / WB9LUR

---

If you have comments, QSO reports or info to share regarding this DX station please email wb9lur@CallingDX.com
---
-----
Announced DXpeditions to be covered in 2018 include

6O6O - Somalia - Jan 3-16, 2018 - QRT
3Y0Z - Bouvet - Jan / Feb, 2018
D68I - Comoros Island - Jan 29-Feb 10, 2018
3D2EU - Rotuma - Feb 23 to March 16, 2018
4B4B - Revillagigedo - March, 2018
XR0YD - Easter Island - March, 2018
XX9B - Macao - March 9-17, 2018
9M0W - Spratly Island - March 2018
3B7A - Agalega & St. Brandon - April, 2018
KH1/KH7Z - Baker Island - June/July, 2018
CY9C - St. Paul Island - August 1-9, 2018
TX5T - Austral Islands - August 15-21, 2018
TO6OK - Mayotte Islands - Sept 20-Oct 6, 2018
VK9XG - Christmas Island - Oct 16-30, 2018
ZL7X - Chatham Island - Oct 16-22, 2018
VP6D - Ducie - Oct/Nov, 2018
Others may be added as they are announced!
-----
* photo at top of page courtesy of N7OU see his interview on DX-Coffee here!