KH1/KH7Z DXpedition Websites:

KH1/KH7Z "#2 Official Website"
(Featuring updates directly from the Baker Island team)

KH1/KH7Z "Facebook Group Page"

KH1/KH7Z "QRZ Page"
KH1/KH7Z "Twitter Page"

KH1/KH7Z "DX-World.net Page"

Cluster Spots for
KH1/KH7Z

:
Spots on DX Summit for KH1/KH7Z
Spots on DX Watch for KH1/KH7Z
CW/RTTY reverse beacon for KH1/KH7Z
KH1/KH7Z

QSL Info / Online Log:
They will be uploading to Clublog during the DXpedition and the Clublog OQRS will be the preferred method to QSL.

QSL via the ARRL LOTW about three to six months after the DXpedition concludes.
For more QSL info see their official QSL page here.


KH1/KH7Z

DXpedition Pilot(s)
None

Active DX Forum Threads for
KH1/KH7Z DXpedition:

Active KH1/KH7Z thread - QRZ's "DX Zone"
Active KH1/KH7Z thread - E-Ham's "DXing"
Additional "DX Zone" threads here
KH1/KH7Z DXpediton NOTES:

Much anticipated DXpedition to Baker Island is now QRT with over 64K QSO's!

UPDATE: July 3 2018, 17:15 UTC : Now with over 50K QSO's they are humming along - but ONLY for a little while longer! They plan on starting breakdown late on July 4 and leaving the island completely by July 6th. Many DX'ers are reporting ATNO's and quite a few FT8 QSO's have been made. But the DXpedition crew is reporting that many ops still don't have the FT8 configured right - here's a link for their FT8 "how to" : Quick Start Guide to Working KH1 via FT8...

UPDATE: June 27 2018, 08:18 UTC : At 0800z on June 27 the team went QRV with 4 stations. The rest of the stations should be on within the next 24 hrs.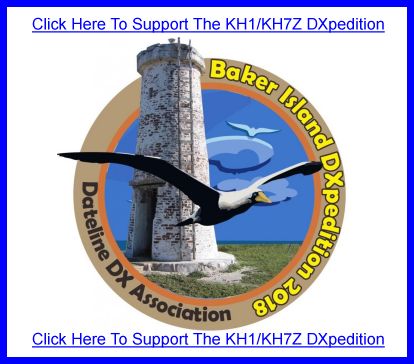 Update June 26, 2018, 11:12 UTC: The advance team is on the island setting up tents and other gear in crazy high temps. They are reporting over 100 degrees Fahrenheit (37+ Celcius) by 10:00 AM local time! Full report here...

UPDATE: June 25 2018, 20:21 UTC : The team is now just off the coast at Baker Island! Next step - getting ashore with all the gear - then QRV very soon thereafter!

UPDATE: June 14 2018, 18:51 UTC : Advance members of the team have arrived in Fiji! More details here...


UPDATE: June 10 2018, 03:10 UTC : Everything is looking good and the KH1/KH7Z team has added a propagation prediction tool to their website here:


http://www.baker2018.net/pages/propagation.html


UPDATE: May 15, 2018 19:43 UTC : The Baker Island DXpedition will be to the fifth most wanted entity on Clublog's "Most Wanted" DX list!

This DXpedition will also commemorate the eighty first anniversary of Amelia Earhart's disappearance on July 2, 1937 near Baker & Howland islands - as well as the commitment and sacrifices made by the Hui Panalā'au students from Hawaii - who lived on Baker, Howland and Jarvis from 1935-1942.

If you have comments, QSO reports or info to share regarding this DX station please email wb9lur@CallingDX.com
---
-----

Announced DXpeditions to be covered in 2018 include

6O6O - Somalia - Jan 3-16, 2018 - QRT
3Y0Z - Bouvet - Jan / Feb, 2018
D68I - Comoros Island - Jan 29-Feb 10, 2018
3D2EU - Rotuma - Feb 23 to March 16, 2018
4B4B - Revillagigedo - March, 2018
XR0YD - Easter Island - March, 2018
XX9B - Macao - March 9-17, 2018
9M0W - Spratly Island - March 2018
3B7A - Agalega & St. Brandon - April, 2018
KH1/KH7Z - Baker Island - June/July, 2018
CY9C - St. Paul Island - August 1-9, 2018
TX5T - Austral Islands - August 15-21, 2018
TO6OK - Mayotte Islands - Sept 20-Oct 6, 2018
VK9XG - Christmas Island - Oct 16-30, 2018
ZL7X - Chatham Island - Oct 16-22, 2018
VP6D - Ducie - Oct/Nov, 2018
Others may be added as they are announced!
-----

* photo at top of page courtesy of N7OU see his interview on DX-Coffee here!